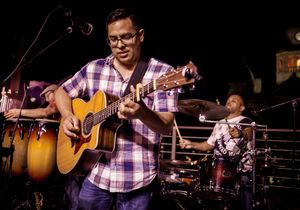 Acoustic & Electric Guitars, Harmonica, Vocals

A native of Spring, Texas, Vince was playing guitar as early as the fourth grade. He took lessons at a local studio for two years, learning music theory and classical guitar. "After the studio closed, I had to teach myself--I would sit in my room with the radio and just try to play and sing along." He listened closely to the styles of Chuck Berry , Buddy Holly, Ritchie Valens, and the Beatles. With classical guitar and rock n' roll fundamentals under his belt, Vince soon branched out to more instruments and styles. He played trombone for the Klein Oak marching band and also got involved in their jazz program. At church, Vince played guitar and sang folk-style spiritual songs for mass.
While he was still in high school, Vince got his first taste of forming and leading bands, including: Dead End Street Music, Natural Wood Finish, and Top Brass. With these efforts, he began to compose and arrange original music, also gaining valuable experience in performing live shows.

After high school, Vince continued to explore jazz music at North Harris Community College, and later went on to the University of North Texas. At UNT, Vince played in or led several original groups including: 2 Kar Garage (rock and pop), The Po Boys (classic rock and blues), The Hardly Dangerous Band (rock and blues), and The Spike Band (funk and soul). Careful listeners could pick out Vince's style influences-- Eric Clapton, Stevie Ray Vaughn, Carlos Santana, and Dave Matthews.

It was the spring of 2006 when the Vince Lujan Project formed and starting gigging around the Dallas-Forth Worth area. "The goal from the beginning was to bring musicians of different backgrounds to support my own little interpretations of songwriting and make something that we could all get behind." He tends to be humble about his songwriting, but Vince's bold, positive energy shines through his music and lyrics.