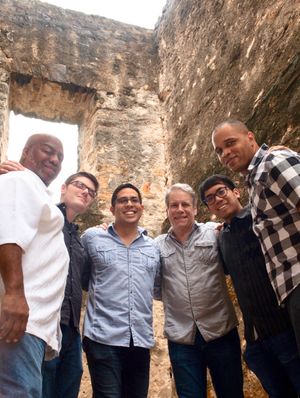 "

A blend that defies easy definition but brings new energy to what is known as the Texas Sound"
— Jill McGuckin of McGuckin Entertainment
 Redefining the Texas sound; fusing Pop, Funk, Latin and Soul

The Vince Lujan Project (pronounced - 'LU-HAhn'), an original band from North Texas, is putting a new spin on the ever- evolving, all-encompassing Texas sound by infusing blends of Acoustic, Pop, Funk, Latin, and Soul.  It's feel-good music with catchy hooks and accessible lyrics.  


The diverse members each lend a unique style that effortlessly blends into a powerful groove, topped off with dynamic and smooth rock/R & B vocals.  Come to a live show and you'll hear nods to (and occasional covers from) the Dave Matthews Band, John Mayer, Carlos Santana, Stevie Wonder, Eric Clapton, and Bill Withers.  

The Denton, Texas-based Vince Lujan Project (pronounced LU-HAHN) has been jamming since members started meeting up in 2002, and its sound has become a fusion of acoustic, pop, rock, funk, blues, jazz, Latin and soul - blend that defies easy definition but brings new energy to what is known as the Texas Sound and featuring an improvisational element that shines up the group's sound even further.


With each player bringing something unique to the group - different cultural backgrounds they are proud to mix into their music as well as music educations and musical influences (including Dave Matthews Band, Santana, the Mexican rock band Mana, Stevie Wonder, Eric Clapton, James Taylor, John Mayer & Los Lonely Boys) it's a mix that turns listeners into fans and helped VLP win the Houston-based Live Music Records' contest to showcase at the label's South by Southwest event at Guero's in March 2009.


Onstage, as band members listen to and play off each other, audiences are carried away by the positive vibe, the energy and the instrumental virtuosity. Band founder and lead vocalist Vince Lujan, born in Spring, Texas, was playing guitar in fourth grade and since has mastered classical, rock n'roll and jazz guitar (and harmonica and trombone), formed and led bands, composed and arranged original music, and found an expressive vocal style.


With him are drummer-backup vocalist James "DJ" Montgomery, an Air Force brat who played his first gig at age 8 and among his influences cites world-famous self-taught stickman Dennis Chambers. Iowan Greg Rochford, on bass guitar and backup vocals, has more than 20 years experience playing with rock, jazz and classical groups, dedicated to technical brilliance and maintaining the rhythm and groove of a song. Veteran keys player Lewis Fluellen lends his soulful Hammond B3 organ sound and saxophonist Brad Labio and trumpeter Kasey Warren bring an air of jazz sophistication and pop sensibility that adds to the tight grooves and melodies to the overall sound.


Together, members of the Vince Lujan Project create a fresh sound that stays with listeners long after the groove has stopped.
VLP Founding Band Members:
"

This is an excellent funky pop music and well-arranged. Top notch musicianship and some smokin' funk makes this a very listenable group. Vocals are passionate, audacious, and spot on.  The singer and songs have shades of Dave Matthews. The funky acoustic guitar and saxophone also help make this association. Soulful classic keyboard sounds (B3, Rhodes piano) mix well with in- the-pocket drums and bass. "
— -mrbassman56, San Fransisco, CA
"

The music is hot! I really like the vibe of this band. Listening to their songs made me want to go out to the city and take in the sites and sounds. I was inspired to go out and live life! -wildeneyes, Woodhaven, NY"
— -wildeneyes, Woodhaven, NY
"

This band has the "it" factor where you can't stop listening and your jaw drops at least once every song! When one musician or another takes a solo you can't believe it sounds so sweet!  The music literally made me get up and dance on the table.  I love you guys!!"
— -Natalie, Colleyville, TX