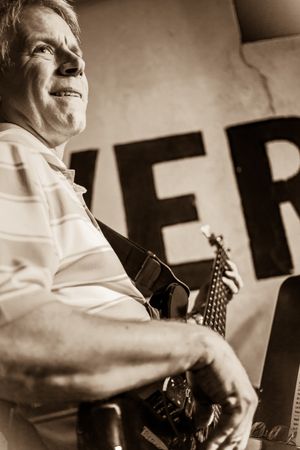 Greg Rochford
Bass Guitar
Gregory Rochford has played bass for over 20 years with various rock, jazz and classical groups. His playing involves dedication to both maintaining the rhythm and groove of a song and technical excellence in all aspects of playing the instrument. His influences include Jaco Pastorius, Tony Levin, and Jeff Berlin.

Gregory was born and raised in Iowa, where his musical education started out with piano lessons in second grade, moving on to trumpet in six grade, and guitar at the age of 12. As a high school senior, he received an outstanding soloist award for his guitar playing in the school's jazz ensemble at state competition. His first professional musical experience was playing bass in a wedding band at the age of 16.

He continued his musical activities in college at Iowa State University, playing trumpet in concert and marching band, and playing guitar in the Jazz Ensemble. In addition, he played in various rock and roll party bands.
After graduating from college, he moved to Dallas and spent the next few years working as a software engineer.

His musical life started back up when he began playing guitar and bass for the art rock group Touched By Ghosts. After producing a sixty minute album (on a four track recorder), the band played various venues in Deep Ellum. The lack of a market for the band's music led to its eventual demise.

Since then he has been played in a number of bands ranging from country to pop to jazz. He was a member of the original music group Dawson, which has performed at the Liquid Lounge, the Deep Ellum Music festival, and the Fort Worth Main Street Festival. He appears on the album "Dawson's New Rage" (2004).
 
He joined the Vince Lujan Project in 2008.